Nashville, Tennessee – Tamara Saviano has achieved remarkable happiness in the music industry. The Music City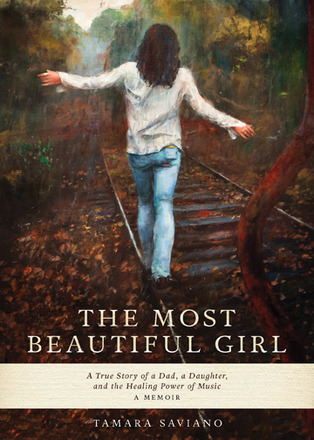 resident works with legendary songwriters including Guy Clark and Kris Kristofferson. She operates a successful consulting firm, manages a couple of indie record labels, and produces celebrated tribute albums. Beautiful Dreamer: The Songs of Stephen Foster won a Grammy for Best Traditional Folk Album in 2005. This One's for Him: A Tribute to Guy Clark, was nominated for a Grammy last year and was honored with Americana Music's Album of the Year award in 2012. Life is good for the 52-year-old Wisconsin native.
It was not always the case. From a broken little girl in small town St. Francis, Wisconsin, to an exciting career in the music business, the heartbreaking yet uplifting memoir, The Most Beautiful Girl: A True Story of a Dad, a Daughter and the Healing Power of Music tells Saviano's story. Featuring a foreword by Kristofferson and named for the famous song, The Most Beautiful Girl chronicles a volatile relationship between father and daughter and illuminates Saviano's connection to music throughout her life.
The book opens with a scene at Johnny Cash's funeral when Saviano is struck with grief about unfinished business with her father. Robert Ruditys died two years before Cash, and hadn't spoken to his only daughter for more than a decade before that.
Sadness and regret lead Saviano on a journey to rediscover her father and examine the lost relationship with a man she once loved. Through an unstable childhood, a turbulent young adulthood and finally on a path to freedom, Saviano lays bare the complexity of family ties—both those that bind and those that break.
Saviano found comfort in music throughout it all. "There was always music on the stereo in our house," she says. "It was part of the fabric of our day-to-day lives. As I was trying to figure out how to reconcile my Dad's death, I listened to his music. He was into Cash and Sun Records and the Memphis Soul music that Stax issued in the 1960s. While I listened to Otis and Aretha and Cash, I went back and read my childhood diaries. My goal was to find peace and acceptance about my Dad, which I did, but it took writing this book to do it."
In the book, Saviano also details her own personal road to professional accomplishment. Nearly two decades ago, she placed a high-risk bet in moving from Milwaukee to Nashville to pursue her dream of working in the music business. Ultimately, it paid off. "I was 34 and a single mom leaving the only home I ever knew. I was working in radio at a job I loved and had great friends," Saviano says. "I cried while driving to Nashville asking myself 'did I make a horrible mistake?'"
It turned out to be the right move. More than a decade ago, Saviano started her own public relations business with Kris Kristofferson as her anchor client. Ultimately she expanded into artist management, project management, and consulting. Recently Saviano co-wrote From Art to Commerce: A Workbook for Independent Musicians, an eBook companion to the workshops she teaches with independent artist Rod Picott. "We teach artists to be entrepreneurs," Saviano says. "The music business has changed with the evolution of technology. Once controlled by gatekeepers, new production and distribution models make it easier for independent artists to tell their stories and produce their own music. It's an exciting time to work in music."
Storytelling has been the common thread throughout her life. Saviano studied the art as a girl by listening to troubadours Cash, Clark and Kristofferson. She is a devoted book reader and has told the story of many others from the perspective of a journalist and producer. The Most Beautiful Girl tells a personal tale, this time her own. "It is always about the story for me," she says. "Stories are nourishment on this journey we call life."
The Most Beautiful Girl is set to a soundtrack of folk and country music that both inspires and haunts her. Saviano weaves a tale that proves music can provide a lasting connection long after human relationships have unraveled. Threaded with lyrics and grounded in a mid-century coming-of-age tale, the memoir represents a true American remembrance of childhood anguish, lost identity and happy endings.
The Most Beautiful Girl concludes at the 2005 GRAMMY Awards, as Saviano is honored for producing the Best Traditional Folk Album: Beautiful Dreamer: The Songs of Stephen Foster.
Saviano, a former music journalist (Country Music Magazine) and television producer (Great American Country) is currently writing a definitive biography of Guy Clark.
The Most Beautiful Girl
Foreword: Kris Kristofferson
Publisher: American Roots Press
Publication Date: February 10, 2014
Kindle, iBook, Kobo and other
( F o r m o r e i n f o r m a t i o n )
Kay Clary 615.585.5321 This email address is being protected from spambots. You need JavaScript enabled to view it.