Insider Profile | Ari Herstand
Indie Artist & Author

Ari Herstand is the CEO and founder of the music business education and artist advocacy company, Ari's Take. Started in 2012 as a blog, Ari's Take has become the go-to resource for independent musicians on how to run a successful music career in the NEW music business. He is also the author of the best-selling book, How To Make It in the New Music Business, now in its third edition, which is a #1 Amazon best-seller in 3 categories and has been adopted by over 300 universities and translated into multiple languages. Herstand's well-researched, relatable, no BS approach is why so many musicians continue to trust him for advice. He offers encouragement without condescension and maintains a "we're all in it together" attitude not found elsewhere in the space.

In 2018, Herstand opened the online school Ari's Take Academy which brings in experts in the field to teach courses on running successful careers in the new music business. ATA currently has over 5,000 students enrolled.

He is also the host of the Webby Award winning podcast, the New Music Business where he interviews innovators and experts in the music industry. Since its launch in March of 2020, over 350,000 people have listened to the show.

An independent musician who has played over 1,000 shows around the country, he has performed on Ellen, has had his music featured in countless TV shows, commercials and films, and has charted in the top 10 on iTunes. He currently leads the immersive funk/soul concert experience Brassroots District.

Herstand has written for many of the top musician trade magazines and websites including Variety, Music Connection Magazine, American Songwriter, Digital Music News, Playback Magazine, CD Baby, Tunecore, Roland, Discmakers, ASCAP, Hypebot and others. He has been a featured speaker at SXSW, Music Biz, BBC One's Amplify, NAMM, ASCAP Music Expo, SF MusicTech, CD Baby's DIY Musician Conference, UCLA, Berklee College of Music and in music business classrooms worldwide.

Through his advocacy work, he helped draft and pass a law in California to help music professionals be able to work and operate unencumbered.
"I believe that a rising tide lifts all ships, and I believe that we are stronger together as a music community and a musician community."
- Ari Herstand

WATCH VIDEO:
Essential Questions for Starting a Music Career With Ari Herstand
LISTEN:
Ari's Take on How To Make It In The New Music Business with Ari Herstand [MIP028]


HIS LATEST BOOK IS:
How To Make It in the New Music Business:
Practical Tips on Building a Loyal Following and Making a Living as a Musician [3rd Edition]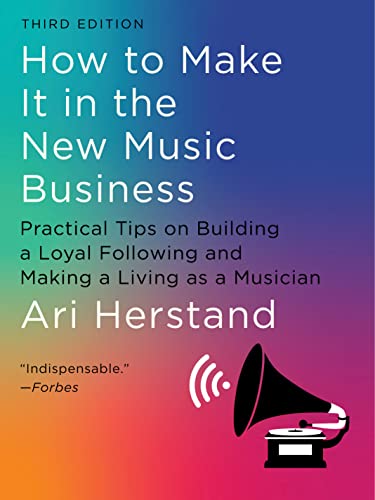 This episode of the MUBUTV Insider Video Series is brought to you by the Music Business Registry. The Music Business Registry is the leading music industry publisher of the most up to date contact information for major and independent record label A&R, Music Publishers, Artist Managers, Attorneys, Music Supervisors and much much more.


Visit musicregistry.com and use coupon code: MUBUTV10 at checkout and get 10% off of your order.

DISCLAIMER: Some product links are affiliate links which means if you buy something we'll receive a small commission.