MUBUTV™ proudly welcomes new music industry media portal from Spain IndustriaMusical.es to the family. Industria Musical created by co-founders Angel Navas and Carles Martinez Prieto was born in the absence of Spanish media, with a vision to become a leading portal in the music industry.
There are many factors that affect and drive the music of today and they all fall within our daily theme: record sales, downloads, streaming, concerts, technology, applications, social media, marketing, music branding, music companies, startups, reports, events, intellectual property, copyright, conferences and more. They are a professional portal for professionals and anyone interested in today's music business.
---
"I became aware of Industria Musical from one of their partners and a colleague of mine Kike Marquez based here in Los Angeles", says MUBUTV co-founder Eric Knight. "We were both at a music industry event and he had asked me if I would go check out the site, which I did. I was blown away by the look and rich content that they already had available in Spanish. I immediately thought what a brilliant niche that is not currently being met. I contacted Kike to tell him that we would be very interested in speaking with them and forming an alliance in the form of a global partnership."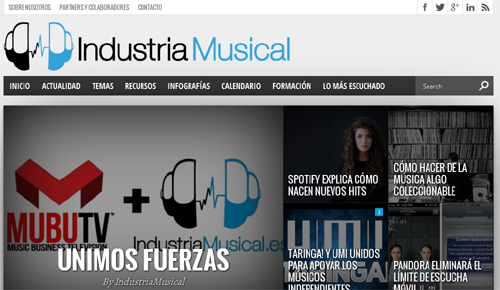 "We all spoke via a Google Hangout and the rest as they say was history. What this partnership means is that we will both exchange news and content from each of our respective platforms as well as our social media channels to build a global awareness of both of our brands, as well as drive traffic to each others sites."
"Our long term strategy from the very beginning of MUBUTV was to create content for a global audience. In our next set of interviews that are already being planned for the fall, will be taken from the Latin music industry perspective. We plan to have some of the industries movers and shakers share what is driving their industry and where it's headed. These interviews will be shot in both English as well as Spanish making it the perfect synergy with our partners Industria Musical."
For more information on Industrial Musical visit them on the web at: http://www.industriamusical.es