| | |
| --- | --- |
| | |
Ever since he can remember, Ignacio Val knew that his favorite place was the stage and for that reason the young artist moved from Bolivia to Los Angeles seven years ago. Being the City of Angels the mecca of the entertainment world, Ignacio arrived with the firm idea of starting his musical career.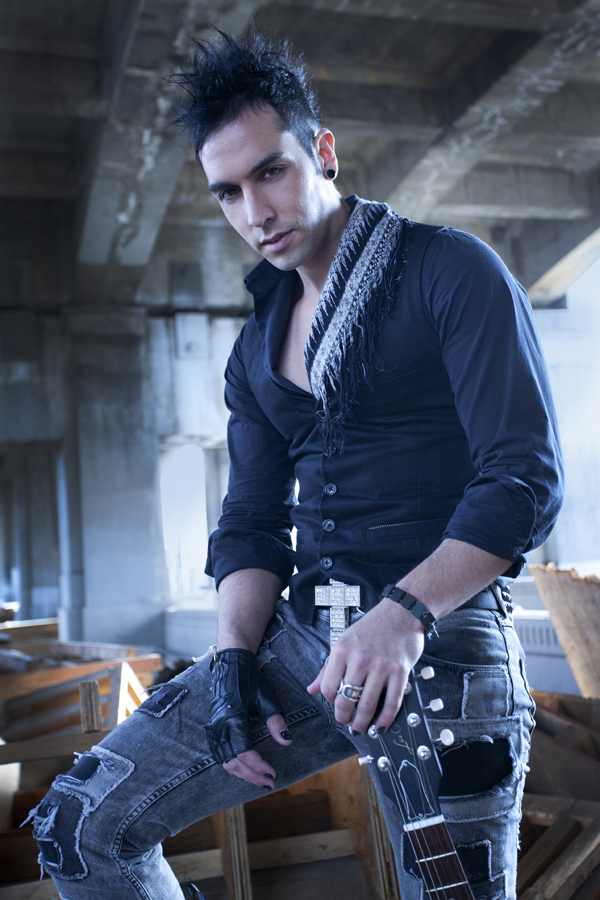 "This career requires discipline, honesty, a lot of work and faith, and I had to come here to learn this," says the artist.

His unique sound of pop/rock/latino has helped Ignacio to open doors and has taken him to perform at important Venues where he has shared the stage with international artists Luis Fonsi, David Bisbal, Alejandro Fernández, Alejandra Guzmán, Dulce Maria, Anahi, Chritian Chavez (RBD) and Espinoza Paz.


Performing in such legendary venues in Los Angeles such as The LA Sport Arena, The Home Depot Center, The Whisky a Go-Go, The House of Blues, The Knitting Factory, The Rumba Room y B.B. King's, among many others. He has also been part in notorious events like the LA Latin American Film Festival and Fiesta Broadway.

"Being on stage is what I love the most, it is the most entertaining part of my job and every time I get up there, I do it as though it will be the last," he adds.

In addition to this whole experience of being on many different stages and events, Ignacio was a part of the Latin American tour of the renowned singer songwriter Franco de Vita during his stops in Bolivia in 2005. During which, he had the opportunity to share the stage with the Venezuelan artist to perform along with him the hit "Si la Ves".

Sharing some time with such a big musical star as Franco de Vita, also allowed Ignacio to develop his talent as a songwriter. A side of his career that he had not explored since he was 18 years old when he wrote the song "No quiero decir adios" (I don't want to say goodbye) for his high school graduation.

"I used to think I was meant to be just a singer, but when I met Franco and his manager, I understood the importance of writing my own songs. Talking to them made me realize the significance of being a songwriter", says Ignacio who has written more than 50 songs in the past three years.

Among his musical influences are Aerosmith, Robi "Draco" Rosa, Bon Jovi, Joaquín Sabina, Toby Mac, and Robbie Williams, but he considers his most important influence to be Elvis Presley and he always remembers when he was only three years old and used to perform the King's songs to his family.

He began taking singing, dance and guitar lessons in his native La Paz, Bolivia since he was 13 years on. Upon his arrival to Los Angeles, he continued studying in the prestigious academy the Musicians Institute in Hollywood.

To be just another Latino in Los Angeles helped him grow as a human being and as a musician and influenced his music when he began fusioning Latin sounds with American rock music.

"When you hear my songs you can tell what I'm going through, I write my own personal experiences. Sometimes they are sad, sometimes happy and I sometimes write songs to God because I am a very spiritual person. Having God in my life has given it a true purpose".

Aside from his music, Ignacio has also began a career as a model and actor. He has participated in many commercials from important brands such as Carl's Jr., DirecTV, Pizza Hut,y Super Lotto. Ignacio just finished working on his first movie, "Suenhos Rotos" (Broken Dreams), an independent film in which he has the lead role in, and he has also worked on "A.N.I.M.A.L Rescue", a short film in where he has one of the leading roles as well. Ignacio has also become the face and image for Bolivia's largest cell phone company Entel Communications.

"I ask God for a long and solid career with a purpose", reflects the young songwriter which has finished being named ambassador of World Vision (Vision Mundial), an international organization dedicated to working with boys and girls from communities from around the world to reduce poverty and injustice. He would like that his music knew no boundaries, to perform in English as well as in Spanish, and at one point have the opportunity to help the children of his
country.

Today, Ignacio's dreams feel closer than ever and he never forgets that when it comes to dreaming, the sky is the limit.