| | |
| --- | --- |
| | |
Beauty Supply | Biography

Being beautiful isn't easy. For most of us, it takes time, effort and money. Well, Beauty Supply wants to make it easier. In fact, their dream is to beautify the world.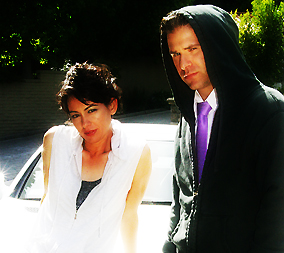 Beauty Supply is a polished yet playful musical concoction of 80's pop-star, singer/songwriter, J.S. Bach and hip-hop/electro. With the smoothness of Sade and an attitude reminiscent of early Madonna or La Roux, the duo, aka Sirsa Shekim and Ross Leitner, fashions a modern pop sound that is both fresh and familiar.

The impetus for the project was Sirsa's global experience, love of beat-driven pop and fashion. Her world travels convinced her, "Creating beauty is one of the highest purposes we can pursue." With his classical training and hip hop sensibilities, Ross brings that je ne sais quoi that's so popular in foreign films. Together they create the mosaic called Beauty Supply.

The duo loves to collaborate with other art forms. They have performed at fashion shows, art openings and in dark industrial lounges. They wrote and produced a multi-media show back in 2008 called "Crash Course in Beauty" which featured over twenty actors, dancers, designers, and DJ's. They also produced the smashing multi media show "Second Skin" in May 2012, which was a combined art-opening and musical, theatrical, and dance performance featuring over 23 artists -- all centered around the music on their latest release "Ex-Foliation." They have had music featured in several films and on all major networks such as ABC, NBC, MTV, CW, HBO, Disney and Columbia/Sony Pictures.

While all these credits have certainly validated their vision, what they really want is to make the world a more beautiful place. And their irreverent, classy approach to the mission could at the very least, make it easier on your eyes as well as your ears.

BEAUTY SUPPLY | OFFICIAL WEBSITE